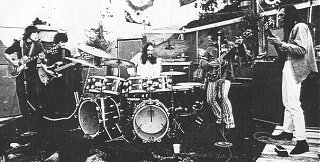 Quicksilver Messenger Service was one of the best bands to emerge from the Sixties Haight Ashbury - San Francisco scene. They loaded up their from-the-heart songs with free-form jamming; in gigs at classic venues like the Fillmore and Avalon, they stretched out and improvised, pushing their music in unpredictable directions. Tougher than the Grateful Dead, looser than the Jefferson Airplane, but never managing to achieve the popularity of either; they faded away after 1975. Maybe they just weren't ambitious enough. In the words of guitarist Gary Duncan, "We had no ambition toward making records, we just wanted to have fun, play some music and make enough money to be able to afford to smoke pot". Sadly, today Quicksilver Messenger Service is too often overlooked as an essential classic rock experience.
They made hippie music, simple straight forward lyrics, mostly love songs and some social commentary thrown in (from the freak point of view).
Musically loose, plenty of rough edges, rarely over-produced, no slick singer, just a tough dual guitar attack always looking for a little open space to stretch it out as far as they could go. Their personnel sometimes changed based on who was busted on the latest pot possession rap. But the two guitar attack of John Cipollina and Gary Duncan was generally a constant. With the charismatic folk rocker Dino Valente out front, the band had its most recognizable singles "Fresh Air" and "What About Me". However there is much to enjoy in all the bands phases from the heavy jamming of the first albums, through the hits of the Valente folk pop period (spiced up by Nicky Hopkins then Michael Lewis keyboards) and finally sweet cowboyish love songs like "Gypsy Lights" and "Don't Cry My Lady Love"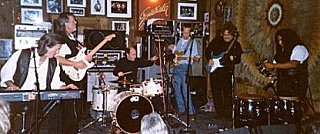 Duncan, Freiberg and Lewis stretched Quicksilver into the Eighties with the the lost classic "Peace by Piece" where the band experimented with rap music and synthesized drums. Today, Gary Duncan's powerful Shape-Shifting Quicksilver pushes the live sound full circle, with long explorations of rock, jazz, pop and blues - touching back to the endless jams of the sixties at the Avalon and Fillmore.
Listen to Quicksilver, still jazzed after forty years and sounding fresher than ever.